I was attending a local Chamber of Commerce mixer and their newsletter editor, Jennifer, asked if I would contribute an article.
I said she could use any of the tips or articles on my website. She had her iPad with her, so I offered to show her just where to find the articles.
After my home page loaded, I went to the navigation button entitled: Articles/Blog and clicked it expecting the drop down to, well, drop down.
To my surprise, it didn't. I clicked some of my other navigation buttons that had drop-downs and none of the sub-menus displayed.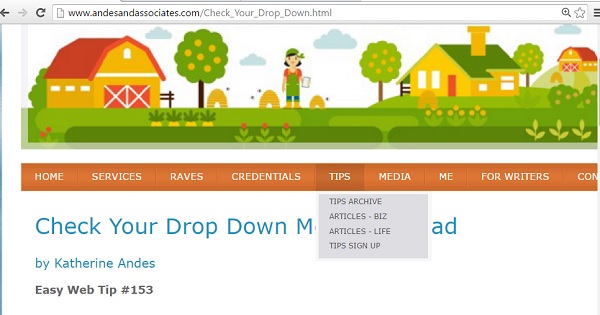 A substantial part of my website was unusable for iPad users! Not good.
I had checked my site out on an iPad before and thought it looked fine, but I had not checked the drop down menu functionality. Sigh.
I phoned my website provider and they told me they were aware of the problem, and that it was occurring with other website systems as well. They concluded by saying it was Apple's problem, not theirs. Sounds like a big fat excuse to me.
Rather than fighting them, I simply created a page for the navigation button with links to the sub-menu pages. It was a functionality that I should have had anyway, but had never gotten around to.
EASY WEB TIP #153: Check out your website's drop down menu on iPad and make sure it's functioning.
P.S. Since this experience, I have tried out the latest version of iPad and the drop down menus work fine. However, my advice is still a good idea for older iPads and other tablets and mobile devices that may have the same issue.