Many local retail companies had an initial burst of excitement when they first built and launched their Facebook page. At first, regular postings were made. But soon, postings lagged. Heck, I've gone to Facebook pages where nothing has been posted for years.
An easy way to generate regular content for your Facebook page is simply to martial the content already on your website.
For example, imagine you have a page on your site entitled 10 Tips for Updating a Family Room. There is a nice photo already uploaded on the web page. All you have to do is grab a little copy from the page and insert it into the Create Post field of Facebook. Then insert the link to the web page.
Facebook will bring up the picture with your copy. Click Post.
That. Is. All. You. Do.
Assuming you have lots of interesting pages on your website, you can cycle posts throughout the year and then start over.
Most retail stores with storefront websites have tons of dynamic pages with products and these upload nicely, too. You'll virtually NEVER run out of content.
To give you an example, I created this sample post on my business Facebook page.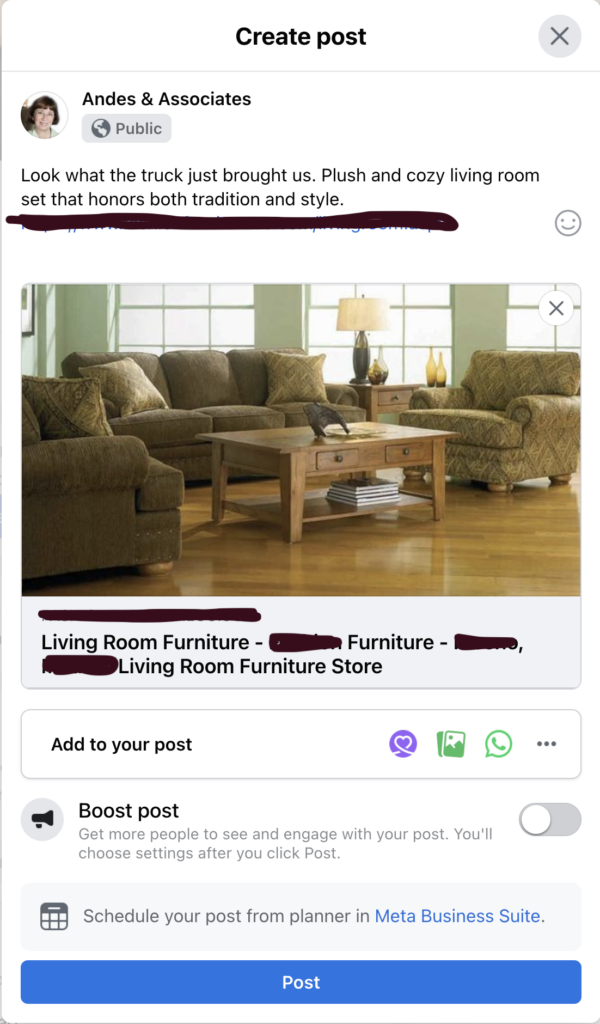 I selected a retail company at random and uploaded one of their dynamic page links into my Facebook Create Post editor. You can see how prettily the post populated with the web page's image. I browned out store identifying information. Remember, you can customize the text or simply pull text from the web page.
One of the nice things about this strategy is that folks can click to your website from the post.
Plus you can follow this same strategy for other social media platforms.
Easy Web Tip 333: Use the content from your individual website pages for social media posts.
P.S. I've always hated that web copywriter's trick of putting a period after each word in a sentence (That. Is. All. You. Do.). But in this case, it works! Never say never.